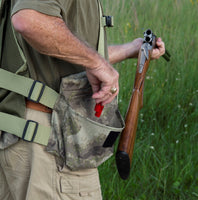 The best bird hunting vest you've ever used.
Having spent over 60 years in the dove fields, I've used every kind of vest and belt there is. And none of them "did it all".
So, I combined the best features I've ever seen . . . plus some I've never seen . . . and created what I believe will be the last bird hunting vest you'll ever own.
For four years, The Ultimate Bird Vest has earned a loyal following. Crafted of lightweight material that is tough as nails, with a load of features . . . and our unique camouflage pattern blends into nearly any cover.
SHOP NOW
Great Corporate Gift
We can embroider your corporate or lodge logo on the shell pocket for the ultimate customer gift, or add-on sale item for lodges and outfitters.
Whether you need a handful or hundreds, please contact us for pricing.
Inquire today